COP27: President Maduro Calls for Immediate Action & Identifies Capitalism as Primary Cause of Climate Crisis
NOVEMBER 9, 2022
Venezuelan President Nicolas Maduro during his speech at the 27th Conference of the Parties of the UNFCCC (COP27) in Sharm El Sheik, Egypt, November 8, 2022. Photo: Twitter/@avnve.
This Tuesday, November 8, Venezuelan President Nicolás Maduro called for concrete and immediate measures to be taken in the face of the current global climate crisis, and urged world leaders to have the courage to recognize that the cause of this crisis is the "consumerist, voracious, predatory, and destructive" capitalist system.
"It is time to rectify radically," said the Venezuelan head of state before the audience of the 27th Conference of the United Nations Framework Convention Nations on Climate Change (COP27), in Sharm El Sheikh, Egypt. "Today, the absolute collapse of the system rises before us as a fatal destiny. Capitalism sees assets where other civilizations see life, and that is why it abrogates the right to destroy what it finds in its path in order to accumulate capital."
"A system that normalizes exploitation among human beings does possess have the ethical requirements to respect other forms of existence," President Maduro said. He noted how the most powerful capitalist economies of the world continue to pollute the planet for the benefit of a few.
"The time for speeches and also for lamentations has run out," President Maduro said. "There is only one present left to act radically and accurately in favor of another possible world."
"We have wasted a lot of time," Maduro said. "Every hour, every month, every year of inaction, hesitation, and indolence, today translates into destroyed ecosystems, extinct species, and the deterioration of living conditions on the planet."
Climate Damage and Loss-Financing Fund
Given this situation, President Maduro emphasized the need to reach real and effective agreements, and to create a specific agenda to protect vulnerable populations affected by environmental damage. In this regard, the president of Venezuela urged world leaders to establish, without delay the Climate Loss and Damage Financing Fund.
"Humanity cannot remain an orphan," said President Maduro. Therefore, it is necessary to ensure that financial resources are distributed in a timely manner to those who suffer the devastating effects of the climate crisis.
"We must work down to the last detail, fine-tuning the mechanisms, so that financial assistance is direct, fair, timely, and expeditious, so that compensation for environmental damage reaches the most affected peoples," Maduro said during the high-level segment of COP27.
The head of state emphasized that any agreement must "attack the problem at the root and grant priority to the most vulnerable on the planet."
#EnVivo
| Presidente @NicolasMaduro interviene en la XXVII Conferencia de las Partes de la Convención Marco de las Naciones Unidas sobre el Cambio Climático #COP27https://t.co/DpWQmtVcMn

— Prensa Presidencial (@PresidencialVen) November 8, 2022
Environmental crisis and inequality
Continuing his speech at COP27, the Venezuelan president compared the imbalance and environmental crisis in nature with the conditions of inequality that capitalism creates within humanity: "in addition to producing environmental misery, it [capitalism] produces social misery."
In this regard, he highlighted the need to recognize failures of "civilization" in order to radically alter them, and warned that, if this self-destructive rate continues, in 30 or 40 years the planet may be uninhabitable.
In this regard, Maduro quoted the words of Fidel Castro Ruz at the Rio de Janeiro summit in 1992: "An important biological species is at risk of disappearing due to the rapid and progressive liquidation of its natural living conditions: humans. Tomorrow it will be too late to do what we should have done a long time ago." President Maduro noted that 30 years ago, Fidel Castro had already pointed to wild and predatory capitalism as the origin of the environmental crisis.
President Maduro also made reference to the words pronounced in 2009 in Copenhagen by Commander Hugo Chávez: "What is the cause of climate change, the cause is the dream of seeking happiness through material accumulation and endless progress, using for that techniques with which all the resources of the earth can be exploited in an unlimited way. Let's not change the climate, let's change the system!"
In this regard, he added that "at the Copenhagen Summit, the unwillingness of the climate-denying elites to confront the emergency at the appropriate pace and in the correct direction … was revealed."
Irreversible fact
During his speech at COP27, President Nicolás Maduro stressed that the terrible environmental imbalances that today dramatically affect life all over the planet seem to indicate that climate change is an irreversible fact, a self-fulfilling prophecy, and the greatest environmental crisis since human life began.
"The dimension of this crisis does not take us by surprise," said Maduro. "For 30 years there have been enough indications of an early warning." In this sense, Maduro referred to the Kyoto agreement which, in his opinion, gave good results until 2009.
He also recalled the 2015 Paris agreement, which made the contribution of science binding, as well as painful deadlocks and ruptures, such as those of 2009 at the Copenhagen Summit.
Referring to scientific projections, he warned that the climate crisis has consequences that force us to alter the consumerist model. If greenhouse gas emissions are not reduced, the damage will be irreversible in only eight years.
President Maduro warned that, as a consequence of these imbalances, extreme phenomena such as droughts and torrential floods have increased in a disorderly manner. In recent weeks, Venezuela and many tropical countries worldwide have reported unusual levels of torrential rains with a corresponding detrimental effect on human lives and infrastructure.
Regarding this crisis, he pointed out that although human civilization is responsible, this responsibility is unequal. As an example, he commented that Venezuela is responsible for less than 0.4% of global greenhouse gas emissions on the planet, and lamented that the Venezuelan people must pay the consequences.
In defense of the Amazon
In addition, President Maduro advocated for the protection of the Amazon jungle and the Indigenous peoples of the region: "It is the native peoples who must teach us how to save and how to live with nature. The original cultures of the entire American continent have always conceived of the earth and the jungle as a living being that thinks and feels like us."
In this sense, he urged humanity to halt the anthropocentric arrogance that prevents us from seeing how sacred the world is. He also made reference to the indefatigable spirit of struggle and resistance of Venezuelan men and women, and their immense love for life "which raises us to think of a new humanity, from a new spirituality—a humanity reconciled with nature, reconciled with itself, reconciled with the future."
"The illusion of infinitive development through consumerism has ended, let's now put limits on the damage caused to mother nature," he urged.
"The world can count on our people to unite all efforts for a new humanity!" President Maduro proclaimed.
https://orinocotribune.com/cop27-presid ... te-crisis/
COP27: Handshake Between President Maduro and John Kerry Causes Uproar (+Ned Price)
NOVEMBER 9, 2022
Photo composition highlighting Venezuelan President Nicolás Maduro shaking hands with US Climate Envoy John Kerry at the International Convention Center of Sharm El-Sheikh, Egypt, during COP27, on November 8, 2022. Photo: Venezuela News.
Caracas, November 8, 2022 (OrinocoTribune.com)—During the 27th Conference of the Parties of the United Nations Framework Convention on Climate Change (COP27) held in Sharm El-Sheikh, Egypt, the President of Venezuela, Nicolás Maduro, and US Special Presidential Envoy for Climate John Kerry, shook hands. The brief diplomatic gesture caught the attention of mainstream media and was hotly debated by news outlets within Venezuela.
US journalist Joshua Goodman, from Associated Press, published a video of the meeting, in which Maduro and Kerry can be seen, between laughter and jokes, briefly exchanging words and wishing each other luck in the corridors of the International Convention Center of Sharm El-Sheikh.
The encounter was also covered by Bloomberg, Voice of America, Fox News, and ABC News, among other mainstream media outlets, to the point that the White House, via State Department Spokesperson Ned Price, felt a need to clarify that the brief encounter "was unplanned … and non-substantive" and that the former secretary of state "was caught by surprise." Price also noted that Maduro has done this to other leaders in the past, and, with typical US hypocrisy, questioned Venezuela's environmental record.
In this regard, it should perhaps be noted that US carbon dioxide (CO2) emission levels are approximately 15.52 tons per person each year, according to Worldometer. Venezuela's per capita emissions, by comparison, are 5.89 tons, while the world average is 4.79 tons per year.
Goodman accompanied his tweet with the following text: "Any lip readers? Maybe recalling their days bonding over baseball at a Cape Cod retreat of the Grupo de Boston (Boston Group), two decades ago. Nicolas Maduro was a Venezuelan deputy and John Kerry was still a senator. Those meetings helped ease tensions following 2002 coup."
The Boston Group was a parliamentary commission of the National Assembly of Venezuela financed by the Organization of American States (OAS) and created out of the Venezuelan–US parliamentary friendship group, formed in 2002 after the failed coup d'état against Hugo Chávez, in which the US played a leading role, along with Spain. In this group, parliamentarians from the United States and Venezuela agreed to meet outside the country to discuss key issues for both nations in an environment of less polarization.
During the COP27 working day this Monday, the Venezuelan head of state also spoke with his French counterpart Emmanuel Macron. The two discussed topics related to the political changes occurring in Latin America and the Mexico Talks being conducted with a segment of the Venezuelan opposition. Many local analysts joked that, if one looked carefully, it was possible to see oil rigs in Macron's eyes—a reference to France and Europe's desperate need for energy following the crisis created by their blind adherence to the foolhardy sanctions regime applied by the US against Russia.
Diplomatic relations between Venezuela and the US have deteriorated to the point where there are no diplomatic relations or consular activity between the two countries. However, in May 2022, the Biden administration sent a high-level delegation to meet with President Maduro in Caracas. Venezuela has been the victim of countless illegal US sanctions against its oil industry, the country's main source of income, thus harming regular Venezuelans. The illegal coercive economic measures and resulting economic damage has led to the death of about 40,000 Venezuelans each year since 2017, according to experts including CEPR (Washington, DC-based Center for Economic and Policy Research).
https://orinocotribune.com/cop27-handsh ... ned-price/
*******
Being Excess Bodies: Shame in the Age of Climate Coloniality
Posted by INTERNATIONALIST 360° on NOVEMBER 8, 2022
Shreya Parikh
For many in the Global South, instead of recognizing that their suffering is a result of local and global socio-economic and racial structures, they feel shame. As COP27 takes place in Egypt, Shreya Parikh writes about climate change, overpopulation, and shame in Tunisia and India, and how suffering is often interpreted as being a result of individual deficiencies. It is a false narrative that blames those suffering most gravely from climate change for their own suffering.
My friend and I return to her home – the Hamrouni household – after the sun has set, with sand all over our feet from walking around the beach in Gabès.[1] It is May 2022, and the sun burns above 40 degrees in the day. I head directly to the bathroom on tiptoes, hoping the sand wouldn't crumble all over the tiled floors and carpets. My friend's mother rushes to see if there is a towel in the bathroom for me, and realizes that there is no running water in the taps. She looks at Mabrouka, my friend, and sighs; they take turns in telling me that the water has run out before midnight – the usual time for the water cuts in the Mtorrech neighbourhood.[2] As I wash my feet with plastic bottles filled with stored water, guilty of my beach pleasures and the resulting need to clean myself again with water, I am told that Mtorrech has been lucky in Gabès, that other neighbourhoods in Gabès have it worse than 12am-5am water cuts every day.
Gabès city, around 400 kilometres south of the capital of Tunisia, reminds me too often of home in Ahmedabad, a city in India with the population size totalling all of Tunisia. Both Gabès and Ahmedabad see long arid summers when the air thickens with pollution and humidity. In both Gabès and Ahmedabad, pleasure lies in food that burns the tongue and the throat – couscous grains coated with spicy hrous in the former, pickled chili mangoes back in Ahmedabad. In both Gabès and Ahmedabad, water cuts often. And it is in Gabès that the raw memories built over my childhood in Ahmedabad emerge like undiscovered water springs.
I wash my feet and my arms sticky with sand and sweat, and there is just enough water in the bottle to splash on my face before heading to the dinner table and then to bed. My mind, subconsciously, had made the calculation of how to divide the two litres of stored water that Mabrouka had given to me. The mental ritual of the calculation, the bodily ritual of washing with so little water, brings back to me a heaviness, a deep shame.
As we eat dinner in front of the television, I can't but sink into this shame. I look at Mabrouka's mother playing with their newly adopted kitten, smile at them, and then proceed to blankly stare at the reality show on the television. But I can't get the shame out of my mind and body.
Where does shame come from?
In the middle-class neighbourhood I grew up in back in Ahmedabad in north-west India, our days were organised around the daily water cuts. Washing, bucket baths, and cooking happened mostly early in the day when running water was guaranteed – between 7am and 2pm. If the water ran until 4pm, we called it our lucky day! There were also days when there was no water at all, when we would pack our laundry and head to my grandmother's home.
In the middle of the summer sometime in the early 2000s, the large electric setup that pumped groundwater for our apartment complex broke down, or at least that is the story I was told as a kid. There was no running water at all. A plumbing company was brought in to dig a deeper hole and put in a new pump. In my memory, the men from the company spent the whole summer digging and digging, and we never really knew when we would have running-water again.
Trucks fitted with water tanks were brought in from time to time but they were small attempts to fill in the daily need of water. Rumours would circulate every day that a water tank would be brought in, and we would prepare by heaping all empty containers and buckets together so that we could rush to the tank once it materialised.
Running to the mobile water tank was a woman's job – I remember women in their house clothes rushing out with all types of empty plastic containers; women in loose cotton dresses in all shades of pastel, with turmeric stains from cooking, and a scarf thrown around the shoulders to perform some form of modesty and presentability. They would crowd around the water tank and elbow each other for what was scarce. I am sure my mother was there as well, running to the tank, but for some reason, my memory has wiped her presence out of these snippets of images that remain in my head.
Was it shame that had erased her presence?
Managing the house logistics without water was, in my mind, also my mother's job. She made sure that all the buckets were full and that the house had been cleaned and mopped while the water was running. It was with her that we would rush to a friends' apartment in the neighbouring apartment complex every morning during the dreadfully long summer of the broken water pump, and it was with her that we would brush our teeth and bathe while she cleaned laundry.
Seeing structural problems as our fault
I never spoke with anyone about our daily water cuts during my childhood. I had internalised that the silent performance of water storing was an act of shame. I never spoke about it with my friends at school, nor did I have any conversation about the recurrent water-cuts with my parents. It existed, every day, and we had to silently accept it.
Men fishing for anchovies along the polluted coast of Gabès (Shreya Parikh, June 2021).
The water cuts, in my mind, were our fault – we didn't have enough money to pay to live in more privileged housing complex where, I assumed with certainty, the water flowed with ease and the bathrooms came with built-in marble bathtubs and I could bathe myself every day like the characters in the English textbooks we read at school. I reasoned that to talk about water cuts in school would mean that I would reveal an uncool fact about my (comparatively lower) socioeconomic class.
As I think about these memories, I find thick layers of shame wrapped around them. This shame came from the collective meaning we had given to the recurrent water cuts – that our inability to pay for more water was to be blamed for the situation we were in and that, if we could move into a more upper-class neighbourhood, there would be running water all day.
The only time we talked about water-cuts as a social problem beyond our individual agencies was when so-called intellectual op-eds blamed shortage of water in India to overpopulation. We were too many, we were told again and again, and we were the excess bodies creating this overpopulation. Every time I would read about 'overpopulation' in our geography textbooks in India, I would have an intense desire to dissolve and disappear.[3] Maybe then we could have running-water?
We witnessed intense urbanization, falling ground water levels, and decreasing average rainfall all around us, and could see that frequent cutting of water in many households across Ahmedabad was (and is) linked to these visible outcomes of global climate change and environment destruction.[4] Yet, we continued to suffer not only from the water cuts but also from the narrative of 'overpopulation' that constructed our lives as excess – the 'too many' drinking away 'too much' of the water.[5]
The 'too many' in Tunisia
'Overpopulation' may not be the word used in Tunisia in the textbooks or in journalistic media to talk about a social problem. But political and social discourses that construct families (like the Hamrouni family in Gabès) outside the Tunis-Sousse-Sfax region as excess are omnipresent.
Since early 1970s, Gabès hosts a series of chemical industries that lines its coasts, drinking away its fresh ground water and emptying the dirtied water into the sea. These industries have disrupted and destroyed the oasis ecosystems and the livelihoods that depend on it; they have polluted and killed the fish, and put fishermen out of jobs. And their polluting gas emissions have brought a long list of fatal maladies like asthma and cancer to its people.[6]
A common dominant discourse presents Gabèsians as having 'chosen' to have chemical industries along its coast as a development policy in the 1960s. According to this discourse, all coastal spaces in Tunisia were to be automatically developed as touristic beaches; because folks in Gabès are 'too conservative' to tolerate women in bikinis (so the discourse says), they 'chose' heavily polluting and water-consuming industries instead. Today, tourist forums continue to repeat this discourse by reminding (non-Tunisian) tourists to not 'expose [themselves] too much during [beach] tanning' because of the 'conservative' nature of locals in Gabès.
This dominant discourse constructs Gabès and its population as conservative and hence inferior from liberal and more-educated populations along the Tunis-Sousse-Sfax coast. Gabès is portrayed as deserving of its polluting industries because, for many, there can be no other model of development except for building giant industries in areas with low literacy levels. The so-called conservativeness of Gabès is used to justify continuous lack of public infrastructure in the region.
Bodies under the heaviness of climate coloniality
The shame induced by being recurrently described as 'overpopulation' or excess bodies weighs down on families that live on the margins of the world – the Global South. The intensity of this weight experienced by those in the Global South is determined by other factors as well – gender, class, race, and caste among others. Both, the Hamrouni family in Gabès and my family in Ahmedabad, carry many privileges, among them the privileges that come with our middle-class status. Their experience of being called 'excess' are not equivalent to the experiences of those who are poor in the Global South.
Those at the margins of the margins are the worst affected by climate change as well as the intensity of shame linked to their marginalised condition. According to scholars Elaine Chase and Robert Walker (2012), shame, in the context of poverty, combines 'an internal judgement of one's own inabilities; an anticipated assessment of how one will be judged by others; and the actual verbal or symbolic gestures of others who consider, or are deemed to consider, themselves to be socially and/or morally superior to the person sensing shame.'[7] For them, shame induces a sense of disempowerment – a lack of control. At the same time, they point out the presence of guilt in the life narratives of many who experience poverty.
For many at the margins, shame is experienced as guilt; instead of recognizing that their suffering is a result of local and global socio-economic and racial structures that create and perpetuate inequalities, the suffering is interpreted as being a result of their own individual lacking (lack of effort or lack of enough money, for example). It is this false narrative that blames those suffering most gravely from climate change for their suffering that weighs heavily onto bodies, a result of what scholar Farhana Sultana (2022) calls 'climate coloniality.'[8]
Sultana argues that climate change and colonialism should be viewed together in order to understand the uneven effects of climate change globally, what she terms as 'climate coloniality.' This climate coloniality not only takes material and political forms, but also discursive forms. Dominant discourses on studying and addressing climate change render, according to Sultana, 'some lives and ecosystems…disposable and sacrificial, whereby [inequality-producing] structural forces, both historical and contemporary, fuel it' (2022:4). For example, in discussions on addressing climate change, 'burdens on the poor across the Global South to reduce greenhouse gas emissions continue to exist' while, at the same time, luxury and survival emissions are treated as equivalent (2022: 5).
A similar argument exists in conversations on addressing water shortages. For example, in 2018, total water withdrawal per capital in India was at 563 cubic meter per year (per inhabitant) while that for Tunisia was 332 cubic meter per year (per inhabitant).[9] For France, the value stood at 416 cubic meter per year (per inhabitant). The value takes into account water withdrawals from agricultural, industrial, and municipal purposes. While France's total water withdrawal per capital is lower than that of India, the number doesn't take into account France's dependence on agricultural produce imported from elsewhere (for example, dependence on cotton fabrics produced in India).
For the case of Tunisia, scholar Habib Ayeb pointed out during the screening of his documentary Om Layoun (in May 2022) that agricultural water in Tunisia is diverted into producing fruits and vegetables for export to Europe (including France) rather than producing grains (or other produce) for local consumption and agricultural sovereignty.[10] Hence, the 416 cubic meter per year (per inhabitant) of water withdrawal in France doesn't take into account the water that goes into the making of watermelons or olives imported from Tunisia.
As a scholar who grew up in and experienced the material and phychological marginalization resulting from climate coloniality in Bangladesh, Sultana notes that 'feeling, embodying, and experiencing the heaviness of climate coloniality is a steep price to pay' (2022, 10). The cost of shame-inducing marginalization is high.
Shame calls for certain practices to be replaced by capitalist ideas and actions that are defined as superior. I am thinking here of the embracing of fast fashion in the middle- and upper-class families in India, which is replacing a more sustainable use of cloth.[11] I think of agricultural plots in the oasis in Gabès being sold away to build residential structures to accommodate increasing urbanization (which is seen as a path to 'development') and the decreasing dependability on local agricultural produce for livelihood.[12]
At the same time, our material understanding of climate change through cutting water, the increasing pollution, and recurrent cases of fatal maladies is continuously rejected by dominant discourses that tell us (instead) that we are the problem – that we are the 'too much' in the so-called problem of 'overpopulation' on this earth.
A world of shame
The discourse of 'overpopulation' explains climate change by portraying bodies at the margins as consuming 'too much,' yet, at the same time, it blames the bodies at the margins for the heightened effects of climate change that they suffer by explaining it as the margin's inability to pay for necessary goods of sustenance (hence, not consuming enough).
The learning of shame, under the weight of climate coloniality, is gradual and continuous. It pushes us to be ashamed of our helplessness in the face of the consequences of global climate change which are passed onto us through a series of micro-level interactions as well as macro-level institutions. Examples of these include textbooks in India or Tunisia that portray a consumerist way of living as a lifestyle to strive towards; they include advertisements about 'modern' intensively water-consuming bath tubs, showers, or toilet systems that construct more water-frugal options as linked to lower socio-economic class. Class differences are seen as a moral issue, and the ability to consume resource-intensive goods (goods that make intensive use of financial as well as environmental resources) are constructed as a morally-correct aspiration to have.
It is through consumption, we are told, that we can become individuals instead of a lump that is defined as excess or 'overpopulated.' To not have financial resources to pay for these resource-intensive goods is socially constructed as a marker of personal failure; shame comes from the internalisation of this idea where not being able to consume goods of morally-correct aspiration is considered a personal failure.
Cement and phosphate factories that line the coast of Gabès (Shreya Parikh, June 2021).
The effects of these internally-contradictory discourses of 'overpopulation' are visible all around the Global South. For example, large cities around Global South continue to choke their inhabitants with increasing road traffic and resulting pollution. In many cases, use of private vehicles over public transportation is motivated by the shame that is linked to sharing transportation spaces with those from relatively lower classes. In addition, images of crowded public transportation are used as proofs to explain the so-called problem of over-population in the Global South leading to climate change.
Public transportation has hence come to be associated with 'overpopulation.' We have come to think that those who take public transportation are excess bodies that should be ashamed of not being able to afford a car or other private forms of transportation. So, while international organizations are pushing cities in the Global South to build public transport infrastructure to decrease dependence on private transportation (and linked pollution), shame continues to act as a mental and emotion restriction in the development and democratization of public transportation.
It is time to take this shame seriously and work towards deconstructing the discourse of 'overpopulation' – the source of the shame – that portrays so many of us as excess and expendable.
Shreya Parikh is a Dual Ph.D. candidate in sociology at CERI-Sciences Po Paris and the University of North Carolina at Chapel Hill, and a Beyond Borders Fellow (2022-24) at Zeit-Stiftung. She is also an affiliated researcher at Institut de Recherche sur le Maghreb Contemporain (IRMC) in Tunis. Her dissertation research focuses on the constructions and contestations of race, and racialization in Tunisia through a focus on the study of racialization of Black Tunisians and Sub-Saharan migrants. Parikh grew up in Ahmedabad in India, and currently resides in Tunis in Tunisia.
Featured Photograph: Old city in Ahmedabad, India (Shreya Parikh, 2019).
Notes
[1] In this text, I use pseudonyms to protect the identity of my interlocutors.
[2] Both Mabrouka and her mother Ahlem are Black Tunisians. Mabrouka is 34 years old, and teaches English language at a private institute in Gabès. Her mother is 66 years old, and a retired nurse. They both live in Mtorrech neighborhood in a comfortable house; the neighborhood is middle class and racially mixed, and located outside the city center of Gabès.
[3] Social science textbooks (as well as other social science study material) in India continue to portray 'overpopulation' as a societal problem in India. See, for example, Rumani Saikia Phukan, "Overpopulation in India – causes, effects and how to control it", 22 April 2022.
[4] In 2019, for example, the average rainfall recorded in Gujarat state (where Ahmedabad is located) was less than that over three previous decades; many parts of the region were declared as facing drought. See Sharik Laliwala, "The Undercurrents Of The Water Crisis In Gujarat." The Wire. 5 May 2019.
[5] The discourses of overpopulation have been traced back to the book The Population Bomb (1968) published under the name of Stanford-based entomologist Paul Ehrlich who co-wrote it with his wife Anne Ehrlich. The book argued that the problem with the increasing population in the world would lead to immense global disasters (like mass starvation). The popularity of his book would lead international organizations to promote fertility reduction programs in the Global South, including in Egypt, India, Pakistan, and Tunisia. See Charles C. Mann, 2018, "The Book That Incited a Worldwide Fear of Overpopulation." Smithsonian Magazine..
[6] Hortense Lac. "Autour du Groupe chimique de Gabès, une population sacrifiée." Inkyfada. 12 November, 2019.
[7] Elaine Chase and Robert Walker. 2012. "The Co-construction of Shame in the Context of Poverty: Beyond a Threat to the Social Bond." Sociology. 47(4):739-754.
[8] Farhana Sultana, 2022. "The unbearable heaviness of climate coloniality." Political Geography.
[9] All data comes from UNFAO's (Food and Agriculture Organization) AQUASTAT database.
[10] The documentary reflects on the unequal access to water in Tunisia, where absence of state infrastructures for water provision in marginalized rural areas forces families to either lose water supply or pay the high cost of privatization.
[11] See Flavia Lopes and IndiaSpend.com 2021 (23 December). "By creating a false demand for fresh looks, fast fashion is hurting the environment." Scroll.in, 23 December 2021.
[12] For a detailed understanding of urbanization of Gabès and decline in agricultural activities in the region, see Maha Abdelhamid, Les transformations socio-spatiales des oasis de Gabès (Tunisie): déclin des activités agricoles, urbanisation informelle et dégradation de l'environnement à Zrig, des années 1970 à nos jours. Thesis defended at University Paris Nanterre, France.
https://libya360.wordpress.com/2022/11/ ... loniality/
*********
THREE THREATS TO THE AMAZON: WHY COLOMBIA AND VENEZUELA TURN ON THE ALERT
9 Nov 2022 , 10:55 am .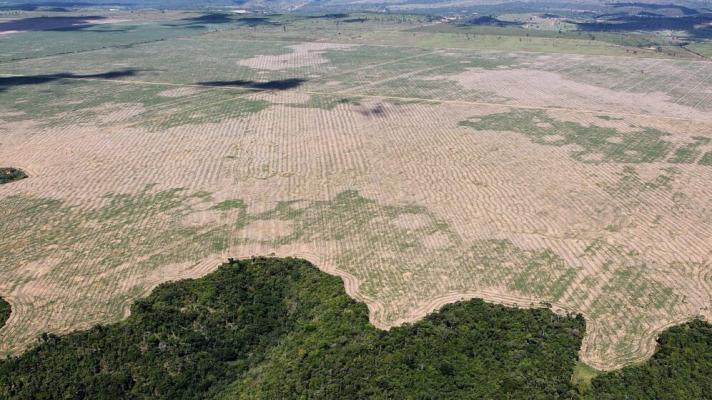 The impact of deforestation is one of the greatest threats to the Amazon basin and the origin is indiscriminate extraction as a result of mining and the construction of illegal roads, indiscriminate logging and land usurpation (Photo: Felipe Werneck / Creative Commons
In the area called Amazonia there is 40% of the world's tropical forest, more species of fish than any other river system and 25% of all the planet's biodiversity, in a territory occupied by the basin of the world's largest river.
The Amazon and the 7 million square kilometers distributed between Brazil, Peru, Colombia, Venezuela, Ecuador, Guyana, Suriname and French Guiana, are key in a context of global warming. The threats to that region also affect the minimum conditions for the reproduction of global life as it is known.
Precisely, its web of life acts as a carbon sink : it stores more carbon dioxide (CO 2 ) than it emits, captures between 90 thousand and 140 thousand million tons and releases oxygen (O 2 ), a cycle that helps regulate the global warming, according to the World Wildlife Fund (WWF). Brazil is among the top six countries with the highest emissions of greenhouse gases (GHG) and the main cause is changes in land use that lead to the loss of forest mass.
Some 5.5 million square kilometers of the Amazon (65%) are in Brazil and constitute more than half of the country, the so-called Legal Amazon occupies nine states and in 2005 was home to 55.9% of the Brazilian indigenous population, according to the National Health Foundation. This is also what the recent electoral process in the largest country in South America was about, this is what President Nicolás Maduro's recent proposal to "start a process of coordinated, efficient, conscious and active recovery" of the basin is also about. This was stated by the presidents of Colombia and Suriname, who participated last Tuesday, November 8, in a high-level regional dialogue.
"Amazon as a pillar of climate and life balance" was the title of the event that took place at the Sharm el Sheik International Convention Center, in Egypt, within the framework of the United Nations Conference on Climate Change ( COP27). There, the responsibility of governments in the preservation and protection of the basin and the measures that should be taken to guarantee that the following threats do not continue to increase were discussed.
1. DEFORESTATION AND FIRES
As a result of mining and the construction of illegal roads, indiscriminate logging and the usurpation of land for agriculture, deforestation and, with it, vegetation fires, have advanced vertiginously. Alerts for deforestation in the Brazilian Amazon increased by almost 50% in September compared to the same month last year, according to official data released by the National Institute for Space Research (INPE), linked to the Brazilian Ministry of Science and Technology.
According to this same institution, since 2010 the four worst fire figures in August coincided with the government of the outgoing president, Jair Bolsonaro: 30,900 outbreaks in 2019, 29,307 in 2020, 28,060 in 2021 and 33,116 in 2022. , with Pará and Amazonas being the most affected states. More data:
*From 1985 to 2020, deforestation and degradation affect 26% of the entire Amazon region. Of that percentage, 20% (an area three times the size of France) has been transformed mainly into crops or pasture for livestock.
*The latest investigation by the Instituto de Pesquisa Ambiental da Amazonia (IPAM), last May, showed that the deforestation of public lands in the Brazilian Amazon, not including state public or private land, increased by 56.6% on average per year. under the Bolsonaro administration since 2019, and that by the end of 2021, 32,000 square kilometers had been destroyed, that is, the size of 21 cities in Sao Paolo.
*According to the Deforestation Alert System, published monthly by the Institute of People and the Environment of the Amazon, in May of this year the area of ​​deforested territory in Brazil increased by 31% compared to May 2021. The most affected regions they are the states of Amazonas, Pará, Mato Grosso, Rondônia, Acre and Maranhão.
*Degraded forest areas (which have suffered some damage while remaining tropical forest) increased by 67% compared to May 2021.
Scientific studies have determined that indirect deforestation, estimated at 40 times greater than direct activity, is part of the impact of mining in protected areas promoted by Bolsonarism in the Brazilian parliament (Photo: DeAgostini / Getty Images)
Perenco is an oil company run by racing driver François Perrodo, one of the biggest fortunes in France. It has a long history of complaints for serious damage to the environment and local populations in Africa and Latin America, as well as for its strong opacity. It has also been opposing the creation by the Peruvian State of the Napo-Tigre reserve for isolated peoples for years. Together with the regional government of Loreto and other actors in the hydrocarbons sector, he is behind a dangerous public campaign against the creation and protection of indigenous reserves.
Some indigenous organizations have denounced that they intend to position Peruvians themselves against uncontacted indigenous people and reverse the rights already recognized for these peoples by disseminating false information.
3. (PARA)M ILITARIZATION, DRUG TRAFFICKING AND POVERTY
The exploitation of the economic interests that strengthen the supremacy of the Global North does not always come from legally regulated channels, this is propitiated by the great extension of the Amazon basin, together with the great importance and abundance of resources. This is how mafias have been established in the territory that seek to take control of resources or organizations dedicated to drug trafficking that threaten both the safety of its inhabitants and the possibility of compliance with legislation that guarantees the adequate exploitation of resources.
This social tension has resulted in the assassination of local leaders in areas such as the Amazon of Peru and Brazil, where the risk is greatest. A Global Witness report has shown how three out of four crimes against environmental defenders took place in the Amazon region of both countries, which have not yet ratified the Escazú Agreement . This document, approved in 2018 by the Economic Commission for Latin America and the Caribbean (ECLAC) in 2018, seeks to guarantee access to environmental information, protect environmental defenders and ensure public participation in environmental decisions.
Last June , Dom Phillips, a contributor to the British newspaper The Guardian, and indigenous expert Bruno Pereira, were murdered in the Javari Valley, a remote area near Colombia and Peru invaded by illegal fishermen, hunters, loggers and miners, and described by the police as a key route for drug trafficking. The crime resonated internationally but Bolsonaro ignored it. Brazil is the country in the world with the most murders (342), in the last 10 years.
Analysts reveal that the Bolsonaro government advocated the greatest devastation of the Amazon, to the point of turning it into a land without law, where the burning allowed to the landowners, the pollution, the hunting, have been incalculable. Without any respect for the territories, the indigenous families, activists and journalists were persecuted and in several cases were injured or killed by the "Bolnarista militias".
The outgoing president promised to explore the economic potential of the Amazon and encouraged ranchers, farmers and loggers to exploit and burn the jungle like never before with a sense of impunity as his government relaxed environmental controls in the country. Making invisible the overwhelming advance of agribusiness and the financial networks that sustain them, he said that the "criminal fires" could have been caused by non-governmental organizations to attract international criticism of his government and that these organizations "feel affected by the lack of funds." . However, agencies such as the Observatorio do Clima suffered budget cuts worth 23 million dollars.
In Peru, the National Commission for Development and Life without Drugs (DEVIDA) published a report showing that, in 2021, coca leaf planting advanced especially in indigenous territories, where 15,380 hectares were reported, of which 11,000 102 correspond to native communities, 71% more compared to 2020, and 4,278 hectares to peasant communities, 22% more compared to 2020. In addition, the buffer zones of protected natural areas, where many indigenous communities are usually settled, increased by 36% more than the previous year, with a total of 12,436 hectares of coca planted.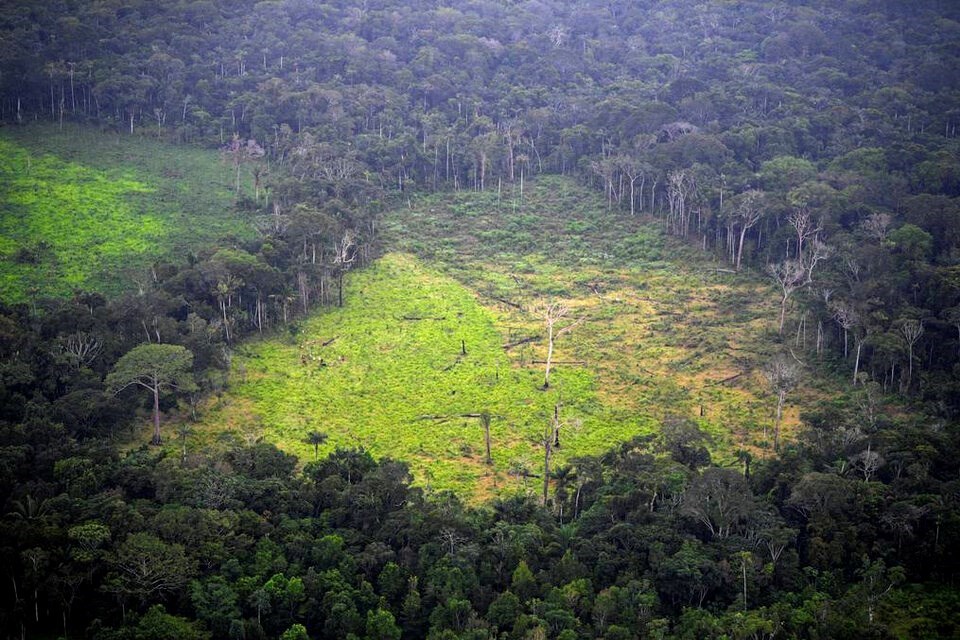 Coca planting has impacted the Amazonian forests of protected areas, establishing illegal economies and territorial disputes that cause violence and paramilitarization of large regions (Photo: AFP)
Drug trafficking acts in synergy with other forms of illegal economy and participates in the direct dispute over Amazonian territorial control because no alternative product can compete with coca cultivation. After the global pandemic, crime expanded in some areas, violently. Proof of this are the 18 murders in the Amazon in two and a half years, a record number in Peru.
In November 2017, the Brazilian government of Michel Temer together with the military from Colombia, Peru, the United States and Brazil developed, for the first time, the United America Operation in Tabatinga, a border area of ​​the three South American countries that participated (less than 600 kilometers of Venezuelan territory). Another 22 countries sent military observers to the operation that was part of AmazonLog 17: "...joint, multinational, and interagency actions by Brazilian, Colombian, North American, and Peruvian troops and agencies, accompanied by military personnel from partner nations and exhibiting companies," it is say, companies selling arms.
The multinational military exercises were preceded by a large arms fair, key in the areas of security and defense, whose main sponsor was Israel. The purely humanitarian and cooperative character disclosed by the Southern Command is difficult to sustain if one considers the difficulty and limitation of the Amazon countries in combating organized crime, drug trafficking and the clashes between these groups over the dispute over the Amazon route of the coca while little is known about the actions to reduce the demand and consumption of drugs.
Some analysts suggested that they were aimed at monitoring and besieging Venezuela, a country with the largest oil reserves in the world. Therefore, the actions for the preservation and protection of the basin aim to establish criteria of regional unity and sovereignty.
https://misionverdad.com/globalistan/tr ... -la-alerta
Google Translator