Ukraine, U.S. drum up war threats against Donbass and Russia
April 2, 2021 Greg Butterfield
Aftermath of Ukrainian rocket-launcher attack in Donetsk, March 4. Photo: Donetsk International
"The USA has the unique condition of being a flagrant violator of human rights within its own borders and in practically every region of the world. No other nation has such a systematic record. Its massive control of media and communications hides this truth from its own people."
I thought of this tweet from Carlos F. de Cassio, the Cuban Foreign Ministry's director for U.S. affairs, while reading the latest corporate news reports about the conflict between Ukraine and the independent Donetsk and Lugansk People's Republics in the Donbass region of eastern Europe.
A series of alarmist articles appeared in late March and early April warning of an escalation in the seven-year war in the region and a buildup of Russian military forces in Crimea and near the border with Ukraine. Fanning the flames of these reports are recent statements by Biden administration officials.
"U.S. Secretary of State Antony Blinken, in a phone call with Ukrainian Foreign Minister Dmytro Kuleba on Wednesday, affirmed Washington's support for Ukraine's territorial integrity 'in the face of Russia's ongoing aggression,' the State Department said in a statement," Reuters reported March 31.
Meanwhile, the New York Times reported March 30 that U.S. European Command (EUCOM) had changed Ukraine's status on an internal watch list from "possible crisis" to "potential imminent crisis."
Completely missing from these reports, however, is the fact that Ukraine has been building up its troops and military hardware on the "line of contact," the front line of the conflict, since mid-January.
At the same time, Ukrainian military forces have stepped up unprovoked attacks on frontline settlements in Donetsk and Lugansk, killing and injuring residents and targeting homes, schools and other civilian targets.
Ukraine attacks civilians, violates ceasefire
The city of Gorlovka in the Donetsk People's Republic (DPR) was one of several that came under increased fire from Ukrainian forces starting in February.
On Feb. 20 "the mayor of Gorlovka denounced the increase in Ukrainian shelling on the outskirts of the city. According to the population of the area, the bombardments, with the use of heavy artillery, had started in the early morning and lasted throughout the night. At least one DPR soldier was killed in the shelling, after which, as a precaution, shelters in the city were reopened," reported Slavyangrad.es.
Then on the night of Feb. 21-22, a big attack on Gorlovka resulted in the deaths of several troops of the Donetsk People's Militia.
Another settlement under frequent attack in February was Staromikhaylovka, where teacher Nadezhda Vasilievna's house was destroyed by Ukrainian shelling on Feb. 17. Fortunately, she had gone out for coal and wasn't home when the bomb hit.
It was only after weeks of these escalating attacks that the Donetsk People's Militia was authorized to respond with defensive fire on March 3.
On March 4 Ukrainian forces launched a missile attack on Donetsk, capital of the DPR. The Donetsk People's Republic Foreign Ministry said that "the strike at Donetsk with multiple rocket launchers on Thursday morning was terror against the civilian population." It was the first time Ukraine had used these prohibited weapons since 2018, it said.
"Earlier, the Joint Center for Control and Coordination reported that Kiev forces used a Grad-P rocket system to fire at the northern suburbs of Donetsk on Thursday morning. The strike was delivered from Ukrainian forces positions in the Opytnoye village area," reported the Donetsk News Agency.
The Donetsk Foreign Ministry repeatedly appealed for the Organization for Security and Cooperation in Europe (OSCE) to send monitors to investigate the increased attacks, and for Ukraine's patrons in the U.S. and European Union to rein in Kiev's provocations.
Pensioner killed
A 71-year-old pensioner was killed March 22 after Ukrainian troops opened fire on Alexandrovka, a suburb of the Donetsk capital. Emergency personnel were unable to provide medical aid or even remove the person's body for some time while the shooting continued.
The DPR People's Militia reported: "Punishers of the Ukrainian 28th Brigade, deployed to Maryinka, opened sniper fire on Alexandrovka in an attempt to provoke retaliatory fire, following the command of their commander Maxim Marchenko."
On the night of March 26, in the frontline settlement of Zolote-5 in the Lugansk People's Republic, a school and residential buildings were damaged after shelling by the Ukrainian military. During an earlier shelling, in the daytime on March 11, children had to be evacuated from the school.
"Residents of Zolote say that the shelling has become more frequent. There is no truce for Ukrainian militants. They use various weapons, including large-caliber ones," Komsomolskaya Pravda reported.
These and numerous other acts are violations, not only of the current ceasefire agreement negotiated by the OSCE last July, but also of the 2015 Minsk Agreement between Ukraine, Russia, France and Germany, which bars Ukraine from deploying and using heavy weaponry in the region.
DPR Foreign Minister Natalia Nikonorova said: "Donbass has repeatedly seen that it makes no difference to Ukrainian armed formations who their targets are: soldiers, pensioners, women or children. While Ukraine reports at international venues the successful observation of tighter ceasefire control measures, civilians continue to get killed."
Trump, Biden and Ukrainian fascists
On March 1, "The Pentagon announced a $125 million military aid package for Ukraine, the first of its kind under the Biden administration," wrote Defense News. "The U.S. State Department has [also] cleared a potential sale to Ukraine of 16 Mark VI patrol boats and other gear worth $600 million."
While these amounts are small potatoes by Pentagon standards, they sent a clear message of encouragement to Kiev. (It was Donald Trump who first authorized direct weapons sales to Ukraine. The Obama administration preferred to arm Ukraine through third parties in NATO, including Poland and Turkey, and the Persian/Arabian Gulf monarchies. These are still the country's main sources for offensive weaponry.)
On March 15, Ukrainian media quoted sources in the military that they were at "readiness level one" awaiting orders for a military offensive against Donbass.
The Russian government restated its commitment to defend the Donbass in the event of a full-scale Ukrainian assault. This was the context for Biden's subsequent provocative declaration calling Russian President Vladimir Putin a "killer" during an ABC interview March 17.
As Struggle-La Lucha has reported, President Joe Biden has a longtime relationship with the right-wing regime in Kiev.
After the U.S.-backed coup of February 2014, Biden — then vice president — became the official in charge of overseeing the new regime to ensure the interests of U.S. big business and NATO military goals. This included austerity measures, repression, privatization and the war in Donbass.
U.S. imperialism has had a longstanding plan to dismantle the neighboring Russian Federation since the early 1990s, which includes the expansion of NATO military power to Russia's border.
A key component of the U.S. takeover of Ukraine was the use of ultra-right nationalist and neo-Nazi groups. These groups provided the shock troops for the 2014 coup, took violent measures against opposition groups in Ukraine, and were unleashed as "volunteer battalions" against Donetsk and Lugansk after their people voted overwhelmingly for independence. The fascist gangs were then integrated into the Ukrainian army and police.
Today Ukrainian President Vladimir Zelensky is relying on these same forces to increase pressure on the Donbass republics and Russia. For example, journalist Dmitry Rodionov noted that large numbers of troops affiliated with the fascist group Right Sector are being transferred to the region near Gorlovka.
"According to sources, the militants were spotted in Konstantinovka and Dzerzhinsk. The Rightists do not hide their presence, openly wear their symbols, intimidating the local population. The militants are occupying houses, driving out the owners from them. At the same time, the local authorities are not doing anything — no one wants to challenge them," Rodionov explained.
The Ukrainian neo-Nazis regard the Russian-speaking residents of the Donbass region as sub-humans who should be "cleansed." They have the same opinion of other national minorities and any ethnic Ukrainians with leftist and anti-fascist views.
Besides the war in Donbass, which has claimed 14,000 lives according to the U.N., the clearest expression of their intentions was the massacre of 48 anti-fascists and labor activists in the Ukrainian city of Odessa on May 2, 2014.
Fascists rallied for Trump at the Capitol in Washington, D.C., on Jan. 6. But in Ukraine fascists were emboldened by Biden's taking office. Ironically, Ukrainian nazis also helped to train some of the Trump-supporting white supremacists who took part in the deadly 2017 Charlottesville "Unite the Right" rally that ended in the death of anti-racist activist Heather Heyer.
This is why it's important for workers in the United States to understand that both capitalist parties represent the interests of imperialism and its exploitation of people abroad and at home. Today Democratic Party leaders may posture as opponents of fascist and white supremacist groups in the U.S. But they are only too willing to make use of them abroad when it suits the interests of Wall Street.
Workers in the U.S., like those fighting for a union in Bessemer, Ala., have more in common with the workers in Donbass threatened by bombs and blockade and workers in Ukraine fighting austerity than they do with the occupants of the White House, whatever their differences of geography, language and culture.
And we have a responsibility to demand: No war in Donbass! U.S. out of Ukraine!
https://www.struggle-la-lucha.org/2021/ ... nd-russia/
************************************
Why Ukraine's borders are back at the center of geopolitics
As tensions heat up on the Ukraine-Russia border, Vijay Prashad takes a look at the factors and interests behind what is happening
April 06, 2021 by Vijay Prashad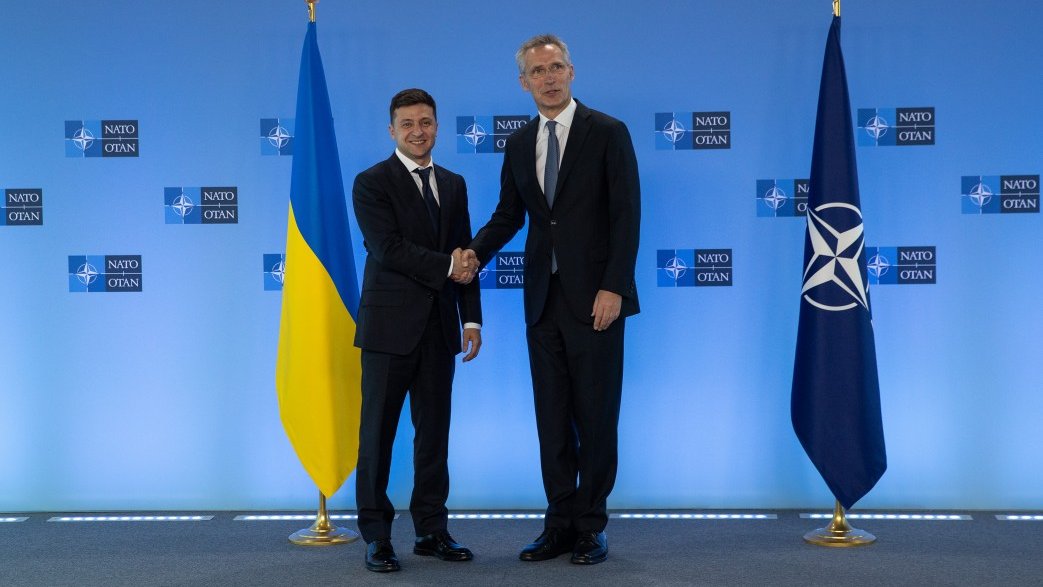 Ukraine's President Volodymyr Zelensky with NATO Secretary General Jens Stoltenberg. Photo: Twitter/Zelensky
On March 11, Ukraine's Foreign Minister Dmytro Kuleba wrote on Twitter that his government has "approved the Strategy for Deoccupation & Reintegration of Crimea." What he referred to is a new strategy driven by Ukraine's President Volodymyr Zelensky to retake Crimea—including the Black Sea port of Sevastopol. Ukraine's National Security and Defense Council passed Decree no. 117/2021 on March 24 that laid out the government's decision to contest Russia's control over Crimea. On Twitter, President Zelensky used the hashtag #CrimeaIsUkraine to send a clear signal that he is prepared to escalate conflict with Russia over Crimea. The Ukrainian government set up a Crimean Platform Initiative to coordinate strategy alongside the United States and the North Atlantic Treaty Organization (NATO) to pressure Russia over both Crimea and the conflict in the Donbass region of eastern Ukraine.
Zelensky, an actor, was thrust into politics when he played the role of Ukraine's president in a television show called "Servant of the People." Fiction became reality when his television show became a political party, which ran on a decidedly vague platform to bring decency back to politics. He won the presidency in 2019 with 73 percent of the vote. There was a general sense that Zelensky's blank slate, and advocacy for Russian actors in Ukraine, would translate into a peace process for eastern Ukraine and with Russia. Instead, Zelensky—egged on by his NATO allies—has become far more aggressive against Russia than his predecessor Petro Poroshenko.
In March 2014, after Russian troops entered Crimea, the population voted to join Russia; eight days later, the United Nations General Assembly passed a resolution asking Russian troops to withdraw. The stalemate set up by the vote in Crimea and the UN resolution persists.
NATO's March Eastward
Current tensions should not masquerade as ancient animosities. This is the case with the relationship between Ukraine and Russia. For seven decades, both countries were part of the USSR, and for over a decade after 1991, relations between the two countries remained cordial. On February 9, 1990, US Secretary of State James Baker told the last leader of the USSR Mikhail Gorbachev that NATO would not move "one inch to the east" from the Oder-Neisse line that divides Germany from Poland. "NATO expansion is unacceptable," Gorbachev told Baker. Baker agreed: "Not an inch of NATO's present military jurisdiction will spread in an eastern direction." In a letter to the German chancellor Helmut Kohl the next day, Baker recounted this conversation, emphasizing the "extension of the zone of NATO would be unacceptable." "By implication," Baker wrote, "NATO in its current zone might be acceptable."
The Western powers broke their commitment immediately. In 1999, the Czech Republic, Hungary and Poland joined NATO, while in 2004, the alliance drew in Bulgaria, Estonia, Latvia, Lithuania, Romania, Slovakia and Slovenia. A line of states that comprise Ukraine, Belarus and Moldova—all of which border Russia—remain outside NATO. In 2002, the NATO-Ukraine Action Plan opened up a framework for Ukraine's possible entry into NATO. This process has raised serious questions not only about the eastward expansion of NATO, but also—more significantly—about the deeper cultural relationship that Ukraine has had with Russia to its east and with Europe to its west; in what direction should Ukraine orient itself (a fifth of the Ukrainian population is Russian speaking, with the largest numbers in Ukraine's urban areas and in the Donbass region)?
NATO has aggressively courted Ukraine and Belarus, with NATO's various plans deeply focused on putting pressure on Russia. The most recent "NATO 2030" report highlights its strategic focus around Russia, which is seen as "destabilizing" and "provocative." In the interest of putting pressure on Russia at its border with Ukraine, the NATO-Ukraine Commission met throughout 2020 to advance the NATO-Ukraine Distinctive Partnership (set up in 1997). In June 2020, NATO recognized Ukraine as an Enhanced Opportunities Partner, the closest form to full NATO membership. Ukraine's armed forces, now substantially trained with NATO, joined NATO forces for three major military exercises last year (Saber Junction, Sea Breeze and Combined Resolve).
At a meeting of NATO Foreign Ministers on March 24, NATO Secretary General Jens Stoltenberg said, "Russia has increased its pattern of repressive behavior at home and aggressive behavior abroad." To this end, NATO's approach to Russia will be, Stoltenberg said, "deterrence and defense," with an "openness to dialogue." Dialogue seems to have been downgraded between the Western alliance and Russia, with a green light to Ukraine to make provocative statements and actions.
Europe's Need for Russian Gas
Beneath the tension lies Europe's appetite for energy. As a result of US actions over the past two decades, Europe lost three major sources of energy: Iran, Libya, and Russia. Because Ukraine has become a hotspot, Russian energy investors—mainly the state energy firm Gazprom—moved to build a pipeline under the Baltic Sea to connect Russian oil fields with Germany. The two pipeline projects (Nord Stream and Nord Stream 2) began in 2011-12, before the outbreak of hostilities in eastern Ukraine and before Russia formally took Crimea (both in 2014).
Germany welcomed the pipelines, since these would resume gas delivery to Europe on a regular basis. US President Joe Biden's administration has sharpened the attack on Nord Stream 2; Biden's Secretary of State Antony Blinken warned "that any entity involved in the Nord Stream 2 pipeline risks US sanctions and should immediately abandon work on the pipeline." Poland's anti-monopoly regulator—UOKiK—has fined Polish subcontractors to the tune of about $7.6 billion for participation in the project. German Chancellor Angela Merkel's close ally Peter Beyer, who is Germany's coordinator for transatlantic affairs—called for a suspension of the pipeline.
Nord Stream 2's Andrei Minin said that his project's fleet have been targets of "regular provocations on the part of foreign civilian as well as military vessels." This could only refer to the military exercises that NATO and its allies—including Ukraine—have conducted in the Baltic Sea; Minin directly pointed to Polish aircraft flying low over the project in Danish waters.
Nord Stream 2 is 95 percent complete and is projected to be ready to go by September 2021. Failure of the US to properly return to the Iran deal and the continued crisis in Libya make Nord Stream 2 fundamental to Europe's energy planning. But Nord Stream 2 is trapped in the attempt by NATO to isolate Russia.
Ukraine's Minority Problem
No country is truly culturally homogenous. Ukraine has substantial populations with cultural roots in neighboring states. This applies mainly to the Russian-speaking population, which has close ties to Russia both culturally and politically. One in five Ukrainians speaks Russian, while about one in 10 Ukrainians identify with a range of cultural worlds that emerge from Belarus to Gagauz (a Turkish community from Budjak).
NATO's pressure against Russia exacerbated and joined with extreme Ukrainian nationalists—including fascists such as the Azov Battalion—to drive an anti-Russian cultural and political movement in the country. Former Ukrainian President Petro Poroshenko, who benefited from Western backing, put forward a language law in 2017 that hampers the teaching of the minority languages in the country's schools. The target for the law was to de-Russianize the population, but it had an impact on the country's smaller minorities. For that reason, Bulgaria, Greece, Hungary and Romania filed complaints with the Council of Europe.
Hungary's Foreign Minister Péter Szijjártó said on Facebook in late 2020 that his government would "stand up for Transcarpathian Hungarians in every international forum." Ukraine, he said, "not a member of NATO, has launched an attack against a minority group originating from a NATO member country." The contradictions of Ukraine-NATO's anti-Russian agenda run afoul of other NATO members for reasons that were not calibrated carefully.
Firing across the Ukraine-Russia border has stepped up, egged on by Biden's full-throated support of Zelensky's newly found anti-Russian ambitions. A senior United Nations official at the Department of Political and Peacekeeping Affairs tells me that they want military forces to withdraw from the border. All the main platforms for negotiation—the Normandy Format and the Arria Formula meetings at the UN—are in a stalemate. "We need cool heads to prevail," said the UN official. "Anything other than that could lead to a catastrophic war."
https://peoplesdispatch.org/2021/04/06/ ... opolitics/