Red April
What happens on the first of the month when residents, restaurants, and retail stores don't pay rent?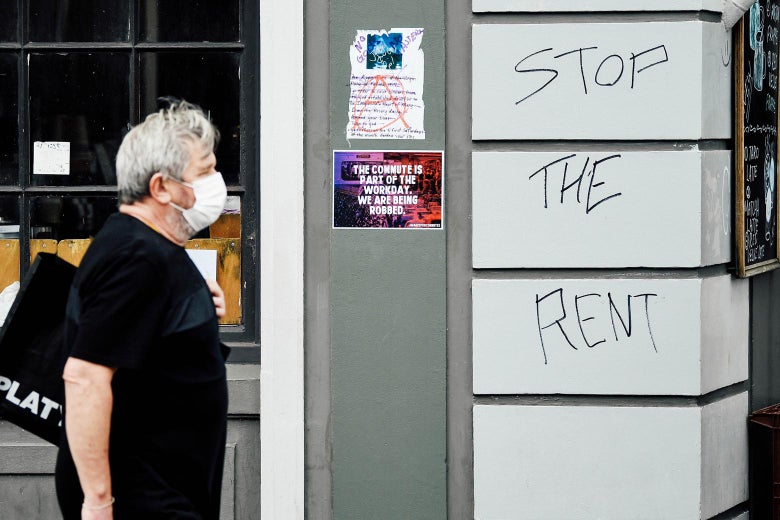 snip
Weirdly enough, the April rent strike is being led by Bolshevik institutions like Mattress Firm, Subway, and the Cheesecake Factory. On March 18, Cheesecake Factory CEO David Overton asked landlords for patience and help—and announced the restaurant would not be paying rent in April. Mattress Firm has told its landlords the same. And Subway declared the pandemic a force majeure, a legal term for an unforeseen event that voids contract obligations.
snip
In Chicago, a Tenants United organizer told me that the city will see widespread nonpayment of rent, in part through organized actions begun by tenants themselves. "We expect to see rent strikes, not just on the South Side where we can expect more people in distressed housing situations, but also people on the North Side in more affluent neighborhoods who make up the service worker economy in those neighborhoods. That's thousands of people, and we have hundreds of people organizing." The push is happening on digital platforms like Facebook and occasionally on the back staircases of three-flats. (Face-to-face interactions, in rent striking as in all things, are not advised.)
snip
Rent strikes are relatively rare in the U.S. and are mostly reserved for slumlords who don't provide services like heat or extermination. But they have an important history: A wave of rent strikes in New York beginning after the First World War led to the nation's first rent control law. That those strikes were a political and practical success, the historian Robert Fogelson observed in The Great Rent Wars, was thanks to strong support from the then-powerful Socialist Party, as well as the role of women whose domestic social life was perfect for daytime organizing.
https://slate.com/business/2020/03/coro ... yment.html
Could get interesting. If this is truly a thing, and it should be tho who gives a fuck about them 'big boys', the reaction of our Rentier in Chief will be choice, as he takes everything personal. The most outrageous verbal abuse I ever received was from a landlord who I shorted cause I had to fix his broken-down furnace. This is the kind of precedent that no Owner wants set.