Extinction Rebellion removes 'misguided' prison advice
By Georgina Rannard
BBC News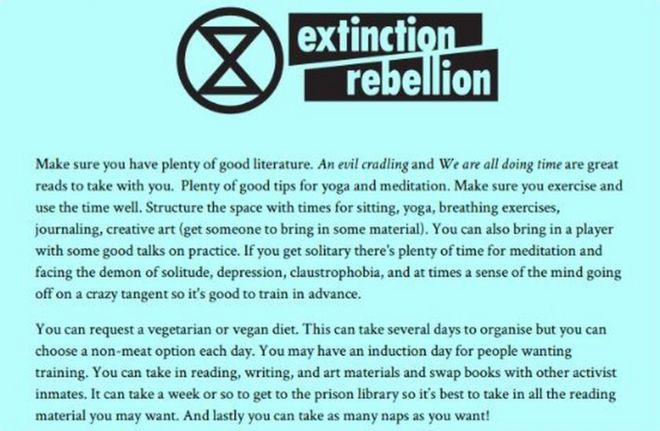 Screenshot of Extinction Rebellion's prison guide before it was deleted from its website
snip
'Not a yoga retreat'
Civil rights activists warned that the advice was "inaccurate and misleading" and added that violence and discrimination are commonplace in prisons.
In England and Wales, assaults in prisons are currently at a record high and in 2018, there were 325 deaths in prison custody - up 10% on the previous year.
And contradicting Extinction Rebellion's claim, 94% of prison officers in England and Wales were white as of March 2018.
"Prison is not - and I cannot stress this enough - a yoga retreat," commented lawyer and anti-prison activist Eda Seyhan.
https://www.bbc.com/news/blogs-trending ... gn=bbcnews
more at link
A genuine Children's Crusade with similar results