Italian-Venezuelan Enzo Franchini Oliveros arrested in Spain, accused of having burned the Orlando interviewItalian-Venezuelan Enzo Franchini Oliveros arrested in Spain, accused of having burned the Orlando interview Share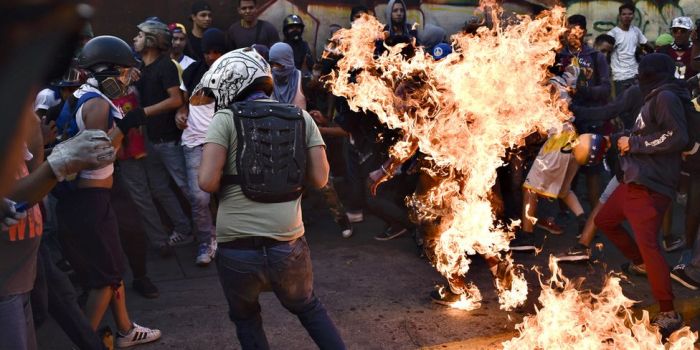 by Fabrizio Verde
The Attorney General of the Bolivarian Republic of Venezuela, Tarek William Saab, has announced through your Twitter account that in Spain the man accused of burning the Venezuelan citizen Orlando Figuera in 2017 was arrested.
Saab explained that thanks to a request from the Venezuelan Public Prosecutor, to the Interpol authorities, the Italian-Venezuelan Enzo Franchini Oliveros was arrested, "accused of burning Orlando Figuera alive."
"Faced with this crime of disgusting hatred, Public Prosecutor 48 accused the man of the following crimes: public instigation, voluntary murder and terrorism.
"The capture through Interpol of the Orlando Figuera killer is an important result of our management," said the attorney general.
He recalled that among the violent protests, which "occurred in the months of April-July (2017) to overthrow the legitimately constituted government: the armed protesters burned the young Orlando Figuera alive".
The judicial authority has initiated the necessary procedures with the competent authorities in Spain "for the immediate extradition of the alleged homicide of Orlando Figuera. In this way the democratic countries reaffirm their collaboration with our justice system," Saab explained.
As reported by Tarek William Saab, the Italian-born entrepreneur was a fugitive because he was involved in the aberrant murder of Orlando Figuera. The street vendor stabbed and burned alive just because he was black and chavista. A monstrous crime.
A video shown by the VTV broadcaster shows how Enzo Franchini first created the void around Figuera and then gave the order to burn the young street vendor in Altamira, the beating heart of terrorist violence.
https://www.lantidiplomatico.it/dettnew ... 694_29409/
Google Translator
Video & screeshots at link.