PSYCHOLOGICAL OR INTELLIGENCE OPERATION? THE USS DETROIT WARSHIP SAILED NEAR VENEZUELAN COASTS
22 Jan 2020 , 7:33 am .
The USS Detroit is a warship inscribed in Operation South Command Hammer (Photo: US Navy)
Before the Serreta ship of the Coast Guard, Gabion class of the Venezuelan Navy, intercepted the USS Detroit warship from the United States, the latter turned northward after it sailed about 26 miles off the coast Venezuelans for approximately seven hours.
On Tuesday, January 21, it was news that the USS Detroit remained close to the coast of Venezuela, creating high expectations for the opposition bases that support a foreign armed intervention against the country, after Juan Guaidó fled to Colombia to meet with the president Iván Duque and Mike Pompeo, Secretary of State of the Trump Administration, in the framework of an anti-terrorism summit sponsored by Washington.
After the activity of the USS Detroit was detected, the Venezuelan Serreta pursued this ship near the Venezuelan coasts, maintaining a prudential distance between navigation waters with international jurisdiction and Venezuelan area.
Subsequently, both the USS Detroit and the Serreta took their route of origin; towards the north the first, towards La Guaira the second.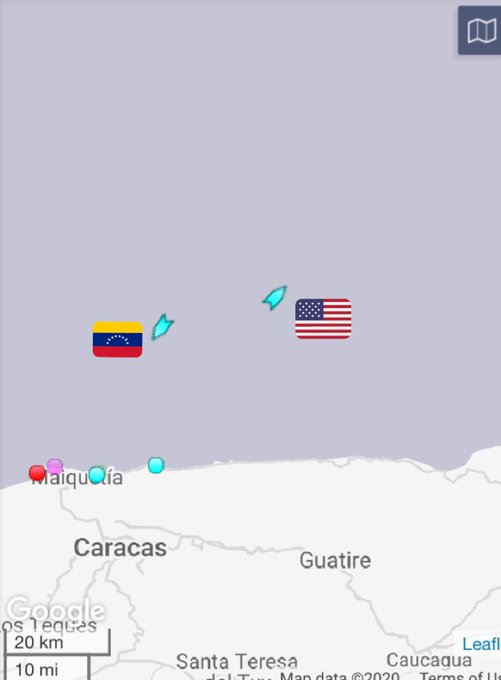 The Military Zone portal reported in December 2019 that the USS Detroit "released moorings at the Mayport Naval Station, to join the area of ​​responsibility of the Southern Command where it will serve in support of the MARTILLO multinational operation" on October 31.
Follow the portal on military news:
"For the tasks against illicit traffic in waters of Central and South America in the framework of the MARTILLO operation, the USS Detroit will have its surface combat package which will be significantly reinforced by its embarked air component, which is composed of a Sea Hawk MH-60S helicopter and two MQ-8B Fire Scout VANTs assigned to the Sea Combat Squadron (HSC) 2 'Sea Knights' Helicopter. The crew, consisting of 90 people, will perform rotations every 4-5 months and will count with the support of a detachment of the US Coast Guard.
"The USS Detroit will not only be limited to control tasks without the exchange with various navies in the region, as is usually the case in these types of operations. According to the provisions of the US Navy, a In early 2020, a second LCS will be deployed, in this case the USS Little Rock LCS-9, a unit also belonging to the 'Freedom' class. "
The route of the US ship could be connected with military intelligence work, as the South Command has previously made by air, violating Venezuelan airspace several times during 2019, thus denounced by the State chaired by Nicolás Maduro.
For the latest statements of Pompeo, threatening the future overthrow of the Chavez government in Venezuela, it could also be a psychological operation, given the expectation expressed by those who advocate a military invasion of the US bill.
http://misionverdad.com/TENDENCIAS/oper ... o-cerca-de
Google Translator