Merits, flaws in trials of drug for COVID-19
By ZHANG ZHIHAO | CHINA DAILY | Updated: 2020-05-02 06:48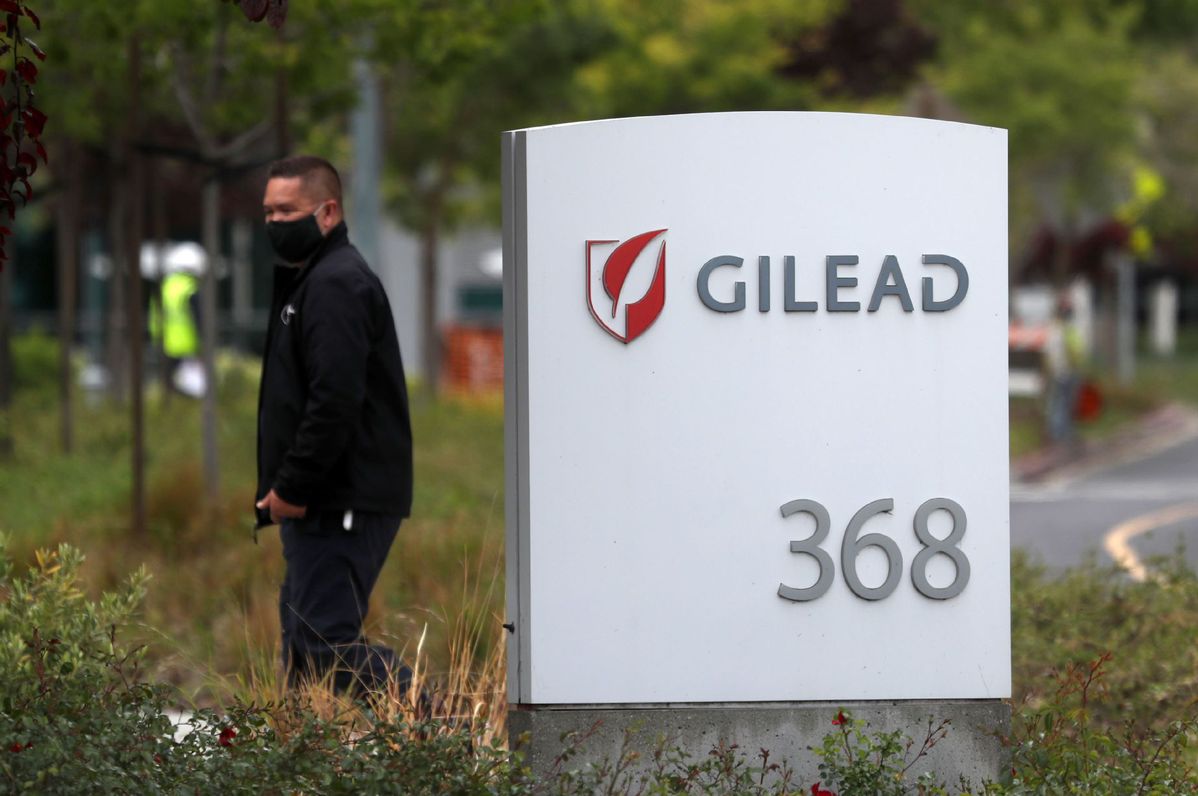 A sign is posted in front of the Gilead Sciences headquarters on April 29, 2020 in Foster City, California. [Photo/Agencies]
Scientists have recently reported mixed clinical results for the closely watched experimental COVID-19 drug remdesivir, with the Chinese trial finding no significant benefits while the preliminary data from the United States claimed patients receiving the drug had seen improvements.
Experts around the world said both studies have their merits and flaws. Nevertheless, current clinical evidence suggests remdesivir may not be the magic bullet it was assumed to be by some media outlets. More research into the drug's efficacy and side effects are necessary.
Due to the Chinese trial not reaching its target enrollment, and the US study not being peer-reviewed or published, their findings should be taken with a grain of salt, they said, adding the public should not rush to dismiss or endorse the drug.
On Thursday, the journal Lancet published peer-reviewed results of the drug's clinical trial in China, led by Cao Bin, vice-president of the China-Japan Friendship Hospital.
The study was based on 237 patients, far less than the intended sample size of 453 cases, and this deficiency was due to the steep decline in the total number of COVID-19 cases in China, the authors said.
The Chinese study was a double-blinded, randomized, controlled trial-the golden standard for clinical research. The study found that the median number of days to show clinical improvement in the remdesivir group was 21 days, not significantly different from that in the control group, which was 23.
The drug also did not significantly lower the mortality rate of patients. The test group had a morality rate of 14 percent, while that of the control group was 13 percent.
Meanwhile, both groups shared a similar ratio of patients who experienced adverse effects, with 66 percent and 64 percent in the testing and control groups respectively.
The most common adverse events in both groups were constipation, a low level of albumin in the blood, and a deficiency of red blood cells.
However, 18 patients in the test group dropped out of the study due to serious side effects such as respiratory failure, compared to four dropouts in the control group.
On Thursday, Cao said in his article on Breath-Circles, a Chinese media platform for respiratory medical professionals, that remdesivir did not reach the expected therapeutic results in his study, but at least the drug is proven to be generally safe.
But due to the study being underpowered, the Chinese authors cautioned against too much being read into their results. They suggested further research, especially with regard to exploring the drug's potency in early treatment or in conjunction with other antiviral treatments.
As for the US study, which is being conducted by the National Institute of Allergy and Infectious Diseases, preliminary results said patients who received remdesivir had a 31 percent faster recovery time than the control group, according to information released by the National Institutes of Health on Thursday.
The median recovery time was 11 days for treated patients compared with 15 days for those in the control group. The results also suggested a slight decrease in the mortality rate of 8 percent for the group receiving the drug versus 11.6 percent for the control group.
The US study, which began on Feb 21, was a double-blinded, randomized, controlled trial involving 1,063 patients. The NIH did not release information about the adverse effects or the dosage used in the experiment, but promised to release comprehensive and peer-reviewed data in a later report.
Cao told Chinese media that objectively speaking, the Chinese trial was more rigorously designed, but he admitted it was difficult to compare the two studies due to different experiment designs and endpoint criteria.
In the Chinese study, a patient could only be enrolled within 12 days of the onset of symptoms, so to avoid interference from other treatments and to ensure more accurate results. The US study did not have this requirement, according to the NIH.
In addition, the criteria for recovery were more lenient in the US study, Cao said. The US study defines the day of recovery as the first day on which the subject satisfies one of the following three categories: being hospitalized but not requiring supplemental oxygen, not being hospitalized but with limited activities, or not being hospitalized and with no limitations on activities.
The Chinese study had a six-point scale to describe a range of clinical status from discharged to hospitalized with ventilators to intensive care patients needing extracorporeal membrane oxygenation, a life support machine that pumps and oxygenates a patient's blood from outside the body.
Clinical improvement is documented if a patient's condition improves by two levels or more on the scale. "If remdesivir is really a wonder cure, then it should have shown an obvious therapeutic advantage compared with the control group," Cao told news outlet Caixin.
In a comment published in the Lancet, John Norrie, a professor of medical statistics and trial methodology at the University of Edinburgh in the United Kingdom, said that while the Chinese clinical trials were well designed, the results were inconclusive due to insufficient statistical power.
"However, a trial is not just its primary clinical outcome-there are important data on safety, viral load, and secondary outcomes," he said.
Stephen Evans, a professor of pharmacoepidemiology at the London School of Hygiene and Tropical Medicine, said the US study featured some encouraging results, but full assessment cannot be made without seeing the full publication of its outcomes.
"This is the first substantial evidence that remdesivir has genuine benefits, but they are certainly not dramatic," he said.
http://global.chinadaily.com.cn/a/20200 ... 53263.html
*********************************
Here's an opinion piece you will not see in the US propaganda onslaught:
COVID-19 crisis: Older persons are the pillars of our society – we cannot leave them behind
By Kaveh Zahedi and Eduardo Klien | chinadaily.com.cn | Updated: 2020-05-01 13:47
A man wearing a protective mask walks past a closed restaurant, during the lockdown amid the coronavirus disease outbreak, in Madrid, April 4, 2020. [Photo/Agencies]
COVID-19 is turning our world upside down, especially for those at the end of the age spectrum. The virus and its rapid spread are challenging science, economy and society—as well as how we care for older persons.
We know that the risk of dying from COVID-19 increases significantly with age. Evidence from Asia and the Pacific shows that case fatality rates rise markedly by decade for persons between the ages of 50 to 80. Due to public health measures, many older persons will die alone, without family and friends. COVID-19 has stripped them of their fundamental human rights – including the right to live and die with dignity.
In Asia and the Pacific, there are 630 million older persons aged 60 years or over. However, it is not only age that poses a higher risk. Older persons tend to be more affected by chronic and non-communicable diseases, making them more vulnerable to succumbing to COVID-19. Those with disabilities are at a particularly high risk since they are often poor, in vulnerable employment without adequate social protection and dependent on others.
Personal distancing has also had a heavy impact on older persons. Those living alone, particularly older women, may become lonelier and more vulnerable to abuse. Persons with disabilities will be unable to receive assistance. Gatherings of older persons' associations – an effective tool for their empowerment - are no longer possible. Those confined in care homes remain without the safeguards afforded by regular contact with the outside world. These factors can undermine an older person's mental and physical health and exacerbate social exclusion.
Weak social protection and limited access to affordable health care in the region make it less likely for older persons to seek care when showing symptoms of COVID-19. Informal workers without social protection –which includes most working older persons- cannot afford to self-isolate as it threatens their sources of income. ESCAP and HelpAge International have promoted social protection through universal schemes, including social pensions, as well as access to Universal Health Care.
Early detection and testing of COVID-19 has led to effective and timely policy interventions. We must ensure immediately that all older persons with symptoms get tested and treated. For those who cannot afford testing, we must provide adequate health care and social protection.
Although many cases require us to avoid personal contact with older persons, we must reach out to our parents, grandparents, older neighbors and friends to ensure that their basic needs are met. We must engage with them socially, show our respect and assure them how much they matter to all of us, especially in times of crisis. In our interactions with older persons we must be more risk-averse, but not discriminatory.
The post-COVID-19 world will not be the same as before. We know that times ahead will be difficult, unemployment will be high and poverty widespread. While governments in many countries, including in Asia and the Pacific, have announced cash transfers and support to small and medium enterprises (SME) to mitigate the impacts of the crisis, it is imperative that they reach everyone.
We must also reduce the digital divide. Access to information and communications technology (ICT) can play a crucial mitigating role during crises, and it must be made available to older persons. ICT can help them manage aspects of their chronic diseases independently, which saves costs and reduces exposure to diseases from visiting hospitals and clinics. Using ICT to diagnose diseases can also help with early detection of disease and in turn early treatment and warning of developing disease hotspots. ESCAP is implementing a project exploring the feasibility of using ICT to support older persons in coping with chronic diseases. HelpAge is also integrating ICT in home and community care projects in the region.
Timely, reliable and age-disaggregated data are crucial to supporting targeted interventions among older persons. As they face unique challenges, tailored data can help devise more effective responses and longer-term solutions.
Older persons are crucial pillars of our societies, and their voice must be heard. They are the pioneers who have made the region prosper. It is our responsibility to reduce their vulnerabilities and ensure that older persons live without discrimination.
COVID-19 is challenging our commitment and capacity to leave no one behind. ESCAP and HelpAge work together and stand ready to support member States in responding to challenges, while aiming at policies for ageing societies based on the fundamentals of human rights: equality and dignity for all.
The author Kaveh Zahedi is Deputy Executive Secretary, United Nations Economic and Social Commission for Asia and the Pacific (ESCAP). Eduardo Klien is Regional Director, Asia, HelpAge International. The opinions expressed here are those of the writer and do not represent the views of China Daily and China Daily website.
http://global.chinadaily.com.cn/a/20200 ... 531ad.html